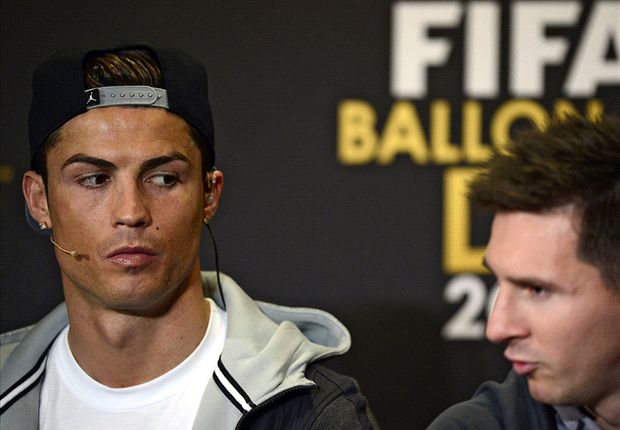 Cristiano Ronaldo has dominated the vote in Goal's poll of the best forwards in the 2013-14 season, picking up 14,247 (40.9 per cent) of the 34,870 votes tallied.

The Portuguese forward shone for Real Madrid throughout the campaign, helping them to their record 10th Champions League title and Copa del Rey glory.

The next most popular choice was Luis Suarez, whose heroics took Liverpool to within touching distance of the Premier League title and won him a move to Barcelona. The controversial Uruguayan landed 7,442 votes (21.3%).

He narrowly edges out his new team-mate at Camp Nou, Lionel Messi, who struggled with injuries throughout the 2013-14 campaign and ended the season trophyless, but led Argentina to the World Cup final, giving him 19.8% of the field.

The South American pair and Ronaldo are way ahead of their competitors in the vote. Zlatan Ibrahimovic came a distant fourth with 1,349 votes after leading Paris Saint-Germain to their second consecutive Ligue 1 title.

Arjen Robben helped Bayern Munich to another domestic double and shone for Netherlands in their unlikely run to the World Cup semi-finals and was next with 1,338 selections.

Thomas Muller was Germany's standout player in Brazil, scoring five goals as his side won the World Cup for the first time in 24 years, but can only manage sixth place, with 1,133 votes.

See how Messi, Ronaldo and Suarez fared in the Goal 50 when the full rankings, including the winner, are announced on July 28.

Who was the best forward of the season?
3.3%

Diego Costa

3.9%

Zlatan Ibrahimovic

19.8%

Lionel Messi

3.4%

Thomas Muller

0.7%

Neymar

3.8%

Arjen Robben

40.9%

Cristiano Ronaldo

0.5%

Daniel Sturridge

21.3%

Luis Suarez

1.6%

Carlos Tevez

0.9%

Other