On Tuesday, the Brazilian football federation (CBF) confirmed the return of Dunga, for what will be his second spell as Brazil coach.

The 50-year-old spent four years in charge of the Selecao between 2006 and 2010, guiding them to Copa America and Confederation Cup titles.

In what was a largely successful period in the dugout, Dunga won 42 of his 60 games in charge and raced through Conmebol's World Cup qualification marathon.

Of those 60 matches, his 10 most-used players were: Gilberto Silva, Robinho, Maicon, Kaka, Julio Cesar, Juan, Lucio, Dani Alves, Elano and Luis Fabiano.

Nobody made more appearances for the coach than the 54 of Gilberto Silva. Robinho appeared 53 times and scored 21 goals, however Luis Fabiano was the most prolific of his reign, netting on 22 occasions.

Below is Dunga's complete record during his first four years in charge of Brazil.



2006 - 2010: DUNGA'S COMPLETE RECORD AS BRAZIL COACH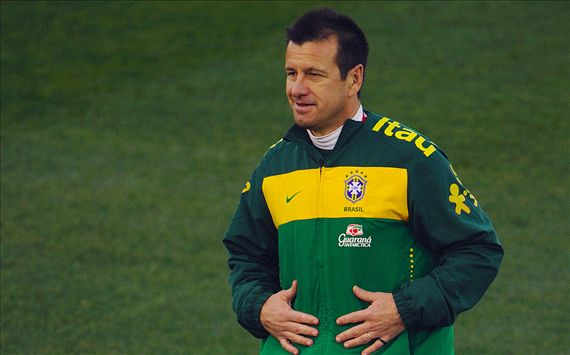 | | | | | |
| --- | --- | --- | --- | --- |
| DATE | VENUE | OPPOSITION | COMPETITION | RESULT |
| 16/08/2006 | Oslo, Norway | Norway | Friendly | D 1-1 |
| 03/09/2006 | London, England | Argentina | Friendly | W 3-0 |
| 05/09/2006 | London, England | Wales | Friendly | W 2-0 |
| 07/10/2006 | Kuwait City, Kuwait | Kuwait | Friendly | W 4-0 |
| 10/10/2006 | Stockholm, Sweden | Ecuador | Friendly | W 2-1 |
| 15/11/2006 | Basel, Switzerland | Switzerland | Friendly | W 2-1 |
| 06/02/2007 | London, England | Portugal | Friendly | L 0-2 |
| 24/03/2007 | Gothenburg, Sweden | Chile | Friendly | W 4-0 |
| 27/03/2007 | Stockholm, Sweden | Ghana | Friendly | W 1-0 |
| 01/06/2007 | London, England | England | Friendly | D 1-1 |
| 05/06/2007 | Dortmund, Germany | Turkey | Friendly | D 1-1 |
| 26/06/2007 | Puerto Ordaz, Venezuela | Mexico | Copa America | L 0-2 |
| 01/07/2007 | Maturin, Venezuela | Chile | Copa America | W 3-0 |
| 04/07/2007 | Puerto la Cruz, Venezuela | Ecuador | Copa America | W 1-0 |
| 07/07/2007 | Puerto la Cruz, Venezuela | Chile | Copa America | W 6-1 |
| 10/07/2007 | Maracaibo, Venezuela | Uruguay | Copa America | D 2-2 (5-4 pens) |
| 15/07/2007 | Maracaibo, Venezuela | Argentina | Copa America | W 3-0 |
| 22/08/2007 | Montpellier, France | Algeria | Friendly | W 2-0 |
| 09/09/2007 | Chicago, United States | USA | Friendly | W 4-2 |
| 12/09/2007 | Boston, United States | Mexico | Friendly | W 3-1 |
| 14/10/2007 | Bogota, Colombia | Colombia | World Cup Qual | D 0-0 |
| 17/10/2007 | Rio de Janeiro, Brazil | Ecuador | World Cup Qual | W 5-0 |
| 18/11/2007 | Lima, Peru | Peru | World Cup Qual | D 1-1 |
| 21/11/2007 | Sao Paulo, Brazil | Uruguay | World Cup Qual | W 2-1 |
| 06/02/2008 | Dublin, Ireland | Republic of Ireland | Friendly | W 1-0 |
| 26/03/2008 | London, England | Sweden | Friendly | W 1-0 |
| 31/05/2008 | Seattle, United States | Canada | Friendly | W 3-2 |
| 06/06/2008 | Boston, United States | Venezuela | Friendly | L 0-2 |
| 15/06/2008 | Asuncion, Paraguay | Paraguay | World Cup Qual | L 0-2 |
| 18/06/2008 | Belo Horizonte, Brazil | Argentina | World Cup Qual | D 0-0 |
| 07/09/2008 | Santiago, Chile | Chile | World Cup Qual | W 3-0 |
| 10/09/2008 | Rio de Janeiro, Brazil | Bolivia | World Cup Qual | D 0-0 |
| 10/10/2008 | San Cristobal, Venezuela | Venezuela | World Cup Qual | W 4-0 |
| 15/10/2008 | Rio de Janeiro, Brazil | Colombia | World Cup Qual | D 0-0 |
| 19/11/2008 | Brasilia, Brazil | Portugal | Friendly | W 6-2 |
| 10/02/2009 | London, England | Italy | Friendly | W 2-0 |
| 29/03/2009 | Quito, Ecuador | Ecuador | World Cup Qual | D 1-1 |
| 01/04/2009 | Porto Alegre, Brazil | Peru | World Cup Qual | W 3-0 |
| 06/06/2009 | Montevideo, Uruguay | Uruguay | World Cup Qual | W 4-0 |
| 10/06/2009 | Recife, Brazil | Paraguay | World Cup Qual | W 2-1 |
| 15/06/2009 | Bloemfontein, South Africa | Egypt | Confederations Cup | W 4-3 |
| 18/06/2009 | Pretoria, South Africa | United States | Confederations Cup | W 3-0 |
| 21/06/2009 | Pretoria, South Africa | Italy | Confederations Cup | W 3-0 |
| 25/06/2009 | Johannesburg, South Africa | South Africa | Confederations Cup | W 1-0 |
| 28/06/2009 | Johannesburg, South Africa | United States | Confederations Cup | W 3-2 |
| 12/08/2009 | Tallinn, Estonia | Estonia | Friendly | W 1-0 |
| 05/09/2009 | Rosario, Argentina | Argentina | World Cup Qual | W 3-1 |
| 09/09/2009 | Salvador, Brazil | Chile | World Cup Qual | W 4-2 |
| 11/10/2009 | La Paz, Bolivia | Bolivia | World Cup Qual | L 2-1 |
| 14/10/2009 | Campo Grande, Brazil | Venezuela | World Cup Qual | D 0-0 |
| 14/11/2009 | Doha, Qatar | England | Friendly | W 1-0 |
| 17/11/2009 | Muscat, Oman | Oman | Friendly | W 2-0 |
| 02/03/2010 | London, England | Republic of Ireland | Friendly | W 2-0 |
| 02/06/2010 | Harare, Zimbabwe | Zimbabwe | Friendly | W 3-0 |
| 07/06/2010 | Dar es Salaam, Tanzania | Tanzania | Friendly | W 5-1 |
| 15/06/2010 | Johannesburg, South Africa | North Korea | World Cup | W 2-1 |
| 20/06/2010 | Johannesburg, South Africa | Ivory Coast | World Cup | W 3-1 |
| 25/06/2010 | Durban, South Africa | Portugal | World Cup | D 0-0 |
| 28/06/2010 | Johannesburg, South Africa | Chile | World Cup | W 3-0 |
| 02/07/2010 | Port Elizabeth, South Africa | Netherlands | World CUp | L 0-2 |