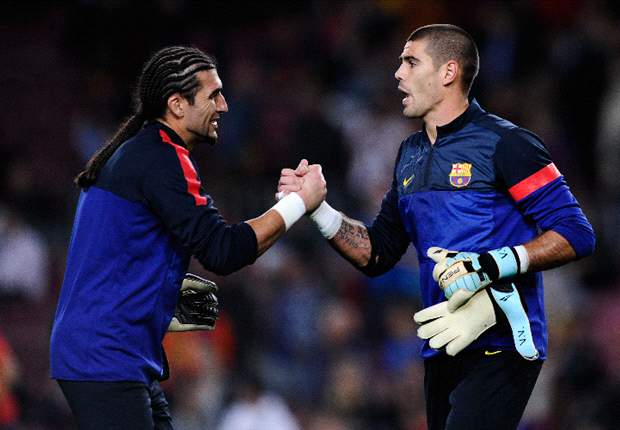 Jose Pinto was a stop-gap signing. Barcelona's reserve goalkeeper was brought in following an injury to Albert Jorquera in January 2008 and the Cadiz-born shot-stopper was only supposed to fill a void for six months. But six years later and at the age of 38, he is still at Camp Nou. So what's his secret?
Pinto is the heart and soul of the Barca dressing room, a motivator who often gees up his team-mates with his music and boundless energy; a popular player who also happens to be a good friend of Lionel Messi. And it's perhaps for that reason that he has been described as more of a cheerleader than a champion.
Pinto's performances, however, have been consistently solid since he arrived from Celta Vigo in 2008. And although some of his unorthodox decisions on the field of play (notably his dribbling past opposition forwards) can create tension and anxiety among the fans, he has never let Barca down.
JOSE PINTO: 80 GAMES SINCE 2008

2007-08

2008-09

2009-10

2010-11

2011-12

2012-13

2013-14
3 appearances

11 appearances

4 appearances

17 appearances

13 appearances

16 appearances


16 appearances



Victor Valdes is and has been the undisputed first-choice in goal for the Catalan club over the last decade and Barca have never felt the need to sign a keeper to challenge the 32-year-old - even during his dips in form. And while Frank Rijkaard, Pep Guardiola, Tito Vilanova and now Gerardo Martino all backed Valdes, the same four coaches have also placed their faith in Pinto as his understudy.
Now the oldest player to turn out for Barca in the club's entire history, Pinto has renewed his contract annually (due, in large part, to his advanced age) and now hopes to stay another year and fight for a starting spot alongside Marc-Andre ter Stegen, who will arrive from Borussia Monchengladbach in the summer.
Before that, the 38-year-old finds himself thrust into the spotlight as he deputises for Valdes (sidelined for seven months after rupturing the anterior cruciate ligament in his right knee last week) for the remainder of the current campaign.
Pinto was set to feature in this month's Copa del Rey final, a competition he plays every season, but will now be Barca's last line of defence in La Liga and the Champions League as those tournaments reach their climax. "He was already going to play in the final of the Copa del Rey," Martino said ahead of the win against Espanyol at the weekend. "Now he has another 13 finals as well."
The Andalusian is playing despite a long-standing lower back problem and the former Celta keeper went down in some pain against his former club after replacing the injured Valdes last week, when he kicked a back-pass straight at a rival defender and then collided with a post as he chased back to amend his mistake. Such moments of madness are part of his make-up, but rarely has he been punished.
After that injury scare, Barca briefly considered bringing in another goalkeeper, but the Catalans would be restricted to another shot-stopper already playing in Spain or an out-of-contract player. Neither option appealed and the the
Blaugrana
believe Pinto's back problem is unlikely to present a problem in the remaining games.
"We are not going to bring in another goalkeeper," Martino said last week. "If we thought he could be sidelined at any point, we would likely think differently, but that's not the case."
Clearly, Barca's chief cheerleader is seen as much more than a motivator within the Catalan club and now he has the chance to prove to everyone else that he is a real champion - and not only in the Copa del Rey.