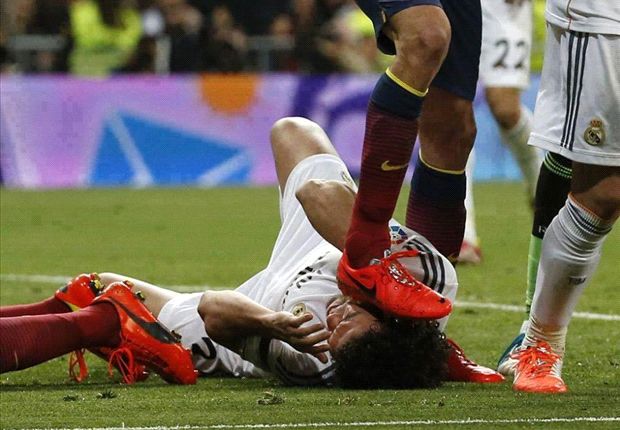 Sergio Busquets has attacked the media response to his alleged stamp on Pepe during Barcelona's 4-3 win over Real Madrid at the Santiago Bernabeu last week.

The Blaugrana man appeared to trample on the centre-back's head after Lionel Messi's first goal in a dramatic encounter.

However, Busquets fumed at the suggestion that there was any malicious intent behind his actions and claimed that journalists had placed the event under far more scrutiny than it deserved.

"Nothing happened with Pepe," the 25-year-old told reporters after his side's 1-0 win over Espanyol.

"I didn't touch him. It's nonsense. If I stamped on his head he'd have a size-45 mark or stud marks. It's something pushed by the press.

"But we live in a country where they can show this lack of respect. Let everyone say what they want."

The Catalans maintained their La Liga challenge with a narrow 1-0 derby win against los Periquitos on Saturday, with a Messi penalty the difference between the sides, and Busquets stressed that recent results have allowed his side a chance to seal another league win.

"It's another victory and we continue to fight for the league," he continued.

"Derbies are always well fought and with lots of fouls and interruptions. It was a hard game for the referee. He could have shown more cards or whistled for more penalties. Pedro could have had one. It was difficult.

"Beating Madrid opened a door for us. The match was a deal-breaker and we came back. That's our mentality and hopefully we can continue on. Our position is privileged and the future in our hands.

"I hope it stays like that until the game against Atletico [on the final day of the season]. That will be a difficult game."

Barcelona sit second in La Liga with 75 points from 31 games, a point behind leaders Atletico.