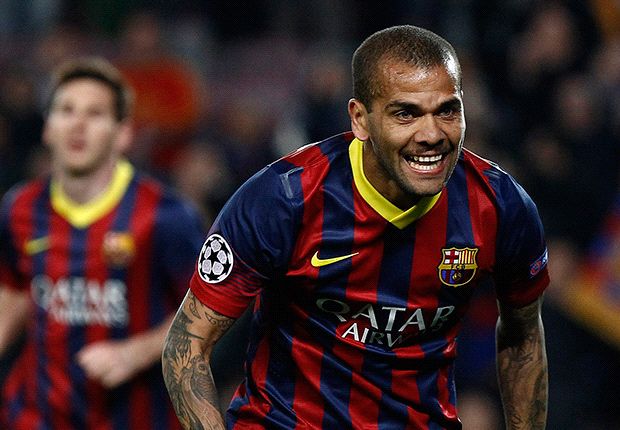 Dani Alves has mocked how Barcelona are stuck in a lose-lose spiral at the moment, in his opinion, claiming when they win the referees are blamed and when they lose it is perceived as the end of their cycle of dominance.

The Catalans stumbled somewhat last month, sparking suggestions that their Liga season was over, before recovering with a win at Real Madrid and in the local derby with Espanyol.

However, both of those victories were sullied somewhat by criticism of refereeing decisions after the match and the Brazilian full-back suggested there was simply no way of winning outright for Gerardo Martino's men at the moment.

"Referee accusations are a motivation," he told reporters on Monday. "It is customary for our wins to be dressed up like this. It seems that part of our life.

"If we win it is because of referees and if we lose it is because the cycle is over. We are above this and it does not affect us. Arguing is what they want.

"After the Clasico, the press were discussing our penalties while they kept quiet about Madrid's penalty, the only one that wasn't one."

Atletico Madrid travel to Camp Nou on Tuesday for the first leg of their Champions League last-eight tussle with the Catalans, with the return leg next week at the Vicente Calderon.

Dani Alves suggested that, if he had the choice of any Rojiblancos star to sign, he would pick star striker Diego Costa, but he insisted that Diego Simeone's men are more than just the newly converted Spain international.

"If I could choose any of them, then Diego Costa, because of his goals and his work," the defender added. "The game goes beyond him though. He's a great player and will make a difference, but Atletico are more than him.

"We can not look back at past three draws with Atletico. It's another game, another competition, another time. We need to step up here, because the tie will be decided in the second game.

"We have to compete well to break the streak against Atletico."