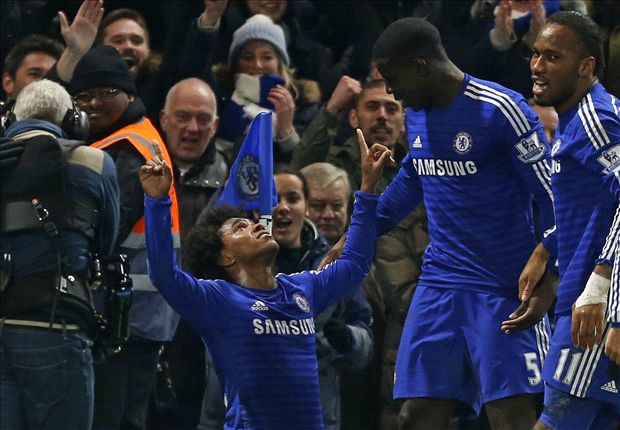 In the absence of Diego Costa, the Blues overcame a dogged and defensive Everton side with persistence, patience and a slice of luck to preserve their seven-point lead

Throughout the 89 minutes he watched his Chelsea side try to pick the lock and batter down the door against a dogged Everton defence, Jose Mourinho was of the same mind as his players. He encouraged them, urged them forward, protested with them. He celebrated wildly with them when Willian's deflected shot finally broke the visitors hearts and, at the final whistle, he shook hands with every single one of them.

He was with them because he recognised the scale of the challenge. Chelsea were without their chief scorer in Diego Costa, their chief creator in Cesc Fabregas and stifled by a talented team single-mindedly focused on defending their penalty area. Within his phenomenal catalogue of managerial successes, Mourinho has seen this kind of game many times before.

"I don't remember a team being champion without a couple of victories in the last minute," the Chelsea boss said afterwards, slumped with an air of exhausted euphoria in his chair in the Stamford Bridge press room. "Every time I won a league title I had a couple of matches like this, but it was the first time this season."

The way events have transpired against Manchester City, Aston Villa and Everton, Mourinho might even privately admit the benefit of the Costa ban that so incensed him. Chelsea have extended their lead at the top of the Premier League from five to seven points and been forced to dig deeper into the reservoir of desire that all great winners must possess.

But he will be even more relieved to have his star striker back. For all their attacking thrust and Tim Howard's impressive display on his return from injury, Chelsea had an inspired Petr Cech to thank for ensuring a vital late win did not turn into an agonising home defeat. Romelu Lukaku, clearly itching for a goal on his return to Stamford Bridge, will curse his finishing on two memorable occasions either side of half-time but the 32-year-old showed Thibaut Courtois that he is nowhere near done raging against the dying of the light.

Cech was the first at the final whistle to receive the gratitude of Mourinho, who later insisted: "He touched the ball twice, he was a spectator but in the first half it's a very good save and in the second half it's a super save." Courtois has looked shaky by his own high standards in recent weeks and the decision over who will start in Paris next Tuesday just got a lot bigger.

At the other end there will be no such debate. Loic Remy and Didier Drogba both troubled the Everton defence with running and physicality but neither have the all-round skill set of Costa, and Chelsea never looked likely to sniff out a yard of space in a crowded visiting penalty area without their £32 million talisman.

Costa's blistering 17-goal haul in his debut Premier League campaign becomes even more impressive when you consider it has been achieved in just 19 of Chelsea's 25 games. Mourinho might have been glad the combative 26-year-old was nowhere to be seen when Gareth Barry's red card foul on Willian sparked a mass brawl in front of his technical area during the second half, but he will want him on the pitch as much as possible from now on. With him they look unstoppable.

Chelsea reacted with typical urgency to Barry's dismissal and the only surprise was that it was Willian, more often the team's hardest worker than a genuine match-winner, who made the difference via the boot of an unfortunate Steven Naismith. The Brazilian looked more purposeful than usual all evening in the rested Oscar's No.10 position, but then perhaps he knows that it is he whose spot is most vulnerable in the long-term to the arrival of Juan Cuadrado, himself a lively debutant without ever seriously testing Howard.

Aside from Costa's return in place of Remy, it would be little surprise if this is the team Mourinho picks to start against Paris Saint-Germain. Bursting with pace and direct running, it seems ideally equipped to try and exploit the likely desire of Laurent Blanc's men to play high up the pitch and dominate at home. Alternatively, he could restore Fabregas to the starting XI and try to fight fire with fire in midfield.

With Costa back, Cuadrado hitting the ground running and Cech refusing to go away, Mourinho has found himself with options. But when it comes to the determination of his players to be champions, he can no longer harbour any doubts. The only question now is whether the rest of the Premier League has run out of answers.