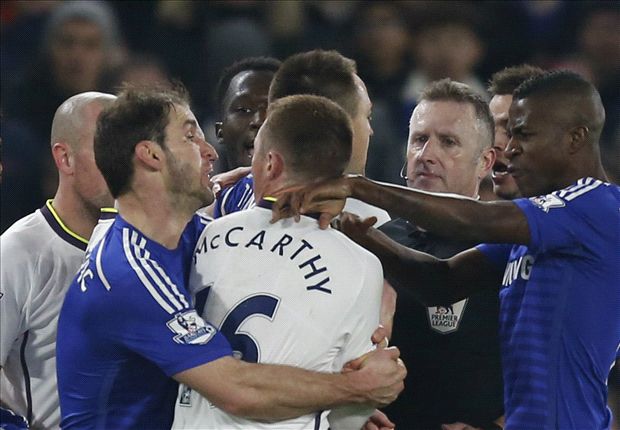 The Serbian defender appeared to clash with James McCarthy at Stamford Bridge but the Portuguese rubbished suggestions he should have been red carded following the flashpoint
Jose Mourinho
has laughed off suggestions that
Branislav Ivanovic
could have been red-carded in
Chelsea
's 1-0 win over
Everton
and praised the match officials for a "very, very good" display.
The Blues defender appeared to clash with James McCarthy in a major flashpoint during the fixture at Stamford Bridge, but Mourinho paid little attention to the incident.
Asked by
BT Sport
if he had seen the apparent confrontation, Mourinho responded: "Don't make me laugh."
The Chelsea boss also smothered his side in praise for continuing to push for a winner, one that Willian found in the 90th minute.
He added: "It's beautiful to win in the last minute. It's so sad to lose in the last minute. I think they have to be very disappointed because they gave us a very difficult match but we are obviously very, very happy and we think we deserve this happiness because the boys, they fought so hard to try and wint he game and they press it so much for the last 20 minutes, risking a lot to try to win.
"The referee performance, in my opinion, very very good, with the goal disallowed - fantastically well disallowed - by the assistant referee.
"And I think a big game. Everton gave us a very difficult game. Everton change its profile, its DNA, this is not Everton, this is another Everton. They defended very well, they had very good defensive performances."
Gareth Barry was sent off before Willian netted the decisive strike and Mourinho felt the midfielder was a victim of the Toffees' tactics of breaking up the game with "intelligent fouls."
"They made lots of fouls, sometimes you can call intelligent fouls, but if the referee follows the rule, is yellow card, yellow card, yellow card, and they paid the price for that with the second yellow card.
"But overall, a big match, and I am tired."
source:goal.com