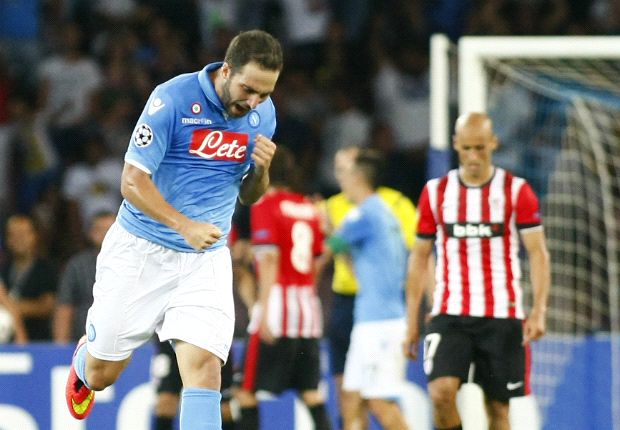 Napoli boss Rafael Benitez claims that the pressure is on Athletic Bilbao ahead of their crunch Champions League play-off clash on Wednesday night, insisting that defeat would not be a "tragedy" for the Serie A side.

A year after spending just over £70 million (€88m) on players, including Gonzalo Higuain, Partenopei president Aurelio De Laurentiis has tightened the purse strings this summer as he waits to discover his club's Champions league fate.

Consequently, it has been argued that Napoli's hopes of challenging for trophies this season hinge upon the outcome of their second-leg showdown with Athletic at San Mames.

However, even though Napoli have to score in Basque Country, having been held to a 1-1 draw at the San Paolo last week, Benitez insists there could be more pressure on the hosts.

"For Napoli, nothing changes whether we win or lose," the Partenopei boss told reporters on Tuesday. "Going out would not be a tragedy.

"This a work in progress and we are developing, we'll keep improving the club's structure for the future and for all other competitions.

"I know Athletic have been out of the Champions League for 16 years, they have little to lose because they feel they have succeeded already.

"But they also have a lot to lose as they are very close to qualifying. That can create nervousness and anxiety.

Benitez did concede that the fact Serie A has yet to get under way - unlike La Liga - could work against his side, but he has faith in the talent at his disposal.

"Maybe Athletic have a small advantage in fitness terms, as they have played more competitive games," the former Liverpool boss suggested.

"But we have the right players to do well tomorrow night. But Athletic won't just sit back and wait for us, nor play for a 0-0 result. We must focus on scoring a goal.

"But just because we have to score, our game plan has not changed. We know we have to come here and win and that has not changed. Last year we won ten matches away, a Napoli record."