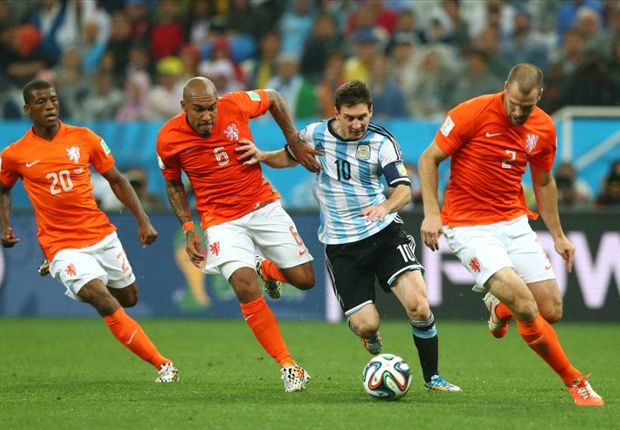 Former Argentina star Ossie Ardiles believes Lionel Messi is in his prime, and says the 27-year-old may have his last opportunity to inspire the South Americans to a World Cup title when they face Germany.
La Albiceleste are looking to win their third World Cup at the Maracana on Sunday, having reached the final after a 4-2 win on penalties against Netherlands last Wednesday.
Ardiles, who was a World Cup winner in 1978, feels Messi will need to be at his best to overcome Die Mannschaft and, has argued that although this will not be the Barcelona star's last chance to play in the competition, his powers may have dulled by the 2018 World Cup in Russia.
"As far as Argentina are concerned, once again all eyes will be on Messi," the 61-year-old wrote in his column for the Times of India.
"This is his first World Cup final, he's 27 now and in four years he will be 31. I won't say it is 'now or never' for him because he could always play in Russia. But he is in his prime right now, and will be charged up.
"Messi needs to have a really good day at the office, and for this the others in the team have to play the supporting role to perfection.
"The midfield has shown that they are pretty accomplished and I hope that they are able to do that on Sunday. Javier Mascherano has been solid and needs to be yet again."
The former Huracan and Tottenham Hotspur midfielder also stressed that Germany's impressive 7-1 win over Brazil could give them a mental edge over his compatriots.
"The last two times they met, Germany had the better of Argentina," he continued.
"We lost a penalty shootout in 2006 in Germany and then in South Africa we lost 4-0. Many would say this would give Germany the psychological edge, but I don't think so.
"The edge will come from the fact that Germany overwhelmed Brazil 7-1 in the semi-final; while Argentina just about managed to beat Netherlands on penalties. So, you can imagine the kind of confidence the German players have right now.
"Some might say they may be overconfident but I don't think so. I have said this before, and it is worth repeating that this team is formidable because it's not just about their physicality.
"They are clearly a powerful team but it's not about individuals for them either. It is the unity they display that makes them so difficult to play.