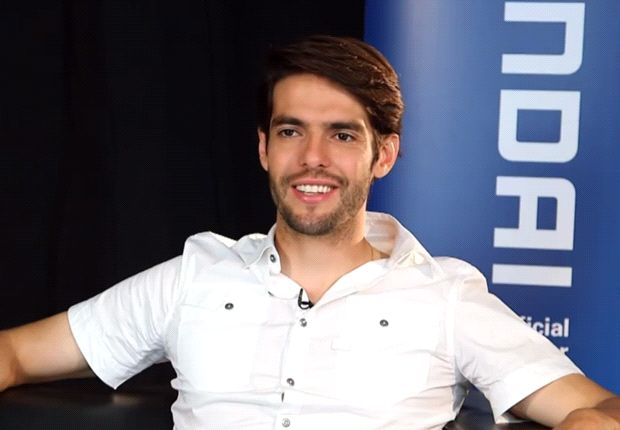 Before becoming one of the world's most famous footballers, Kaka was a fan. In June and July, the AC Milan midfielder returns to his roots: after winning the FIFA World Cup™ in 2002 and featuring in the next two tournaments, the 32-year-old will watch this one as a supporter.

Thanks to Hyundai, Kaka was introduced to Super Fans from across Europe last month, as competition winners from Italy, Spain, Germany, Ireland, Netherlands, Sweden and more met the former Real Madrid man in a dream date in Milan.

"It's not every day you get to meet one of your heroes, an inspiration," said one. "I think I won't forget this day ever and it will be months before these vivid emotions fade away," another added.

There were happy faces all around as Kaka met his young admirers, sang along to one of his terrace songs with one supporter, autographed the arm of another and posed for pictures with all of the Hyundai Super Fans.

"It was fun to meet those guys," he said. "They were eager to meet me and it was a nice day. We took some wonderful pictures. I'm happy."

Kaka then revealed that as a youngster, he himself had been an admirer of Ronaldo, although his first big idol was not a footballer but a racing driver: Ayrton Senna.

"I was a big fan of Ronaldo," he said. "Then we had the chance to play together for AC Milan and for the Selecao, but [before that] I was also a very big fan of Ayrton Senna. I very much liked those two icons for Brazil and for Brazilian sport.

"I liked Senna very much," he added in reference to the three-time Formula 1 world champion, who lost his life following a tragic crash at the San Marino Grand Prix in 1994, when Kaka was only 12.

Now 32, the midfielder hasn't been called up by Brazil for the World Cup in his homeland this time, but won the competition in 2002 at the age of only 20.

At 2014 FIFA World Cup Brazil™, players of a similar age will have the opportunity to win the Hyundai Young Player Award, which will be awarded to the best player under 21 years old, inaugurated in 2010 FIFA World Cup South Africa™, when Germany's Thomas Muller picked up the prize.

"It's a prize for the best Under-21 player," Kaka said. "It's a good motivation for these guys, although as football is a collective sport, their motivation should be winning titles with their team. Then the best of them will have the satisfaction of winning something as an individual player, like the Hyundai award."

As an official sponsor of the FIFA World Cup 2014™, Hyundai will also have various marketing activation in Brazil - and Kaka says he is looking forward to watching the tournament as a supporter this time around.

"I think I'll have a great opportunity now [after being left out of the squad by coach Luiz Felipe Scolari], because I can follow Brazil's matches as a common supporter, go to the stadium with my friends, all together. Although I won't play, I will enjoy football that way during the World Cup."

In his absence, the 32-year-old believes the two men chosen in his position - Chelsea pair Oscar and Willian - can shine next month and also hopes Brazil can cope with the intense pressure on home soil.

"Those two guys who were called up are good and talented players," he said. "Oscar is a very gifted footballer. I hope they have a good World Cup.

"There is a lot of pressure [for Brazil], because it's great to play a World Cup in your home country, close to all of the supporters. It brings a lot of responsibility, but I hope Brazil can take advantage of being the host nation and make it a positive thing, not a negative one."