BARCA LOSE GROUND: LA LIGA AFTER SATURDAY'S ACTION
The alarm bells were ringing before a ball had been kicked. This was supposed to be the night Barcelona bounced back after European elimination at Atletico Madrid on Wednesday, but the team selection did little to inspire confidence ahead of the game and fans' fears were realised in another awful defeat.
Injuries in defence meant Barca began with Jose Pinto, Martin Montoya, Sergio Busquets, Javier Mascherano and Adriano at the back. Two midfielders, a ultility man and a second-choice right back. And to make matters worse, the hapless Alex Song was picked to play in front of them. It was, quite literally, a disaster waiting to happen.
So when Granada scored, there was an air of inevitability about the way it occurred. Song was pressured into conceding possession, Busquets lost his marker and Montoya couldn't cover in time to stop Yacine Brahimi from firing past Pinto. A comedy of errors, yet nobody at Barca was laughing.
Granada, wearing red and white like Atletico, appeared to have learned lessons from Simeone's side as they played narrow and squeezed space to prevent Barca from playing their natural game. In truth, that was made easier anyway by the presence of Song, never good enough to be a midfielder nor a defender at the Catalan club.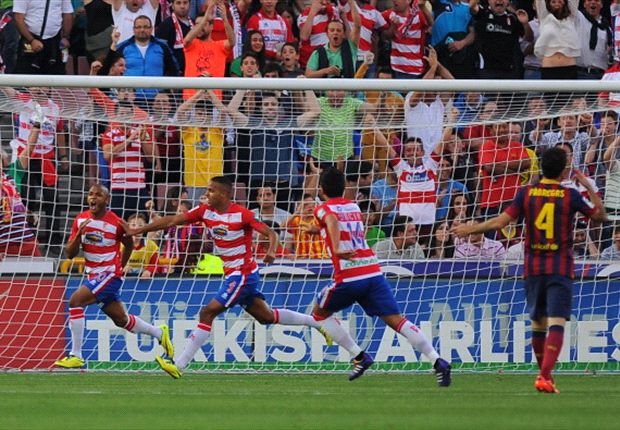 Another blow for Barca |

Brahimi celebrates Granada's goal

As against Atleti, Neymar found space wide on the left, but the Brazilian was unable to make it count. The 22-year-old flashed one effort wide and looked likeliest to hurt the home side, with Lionel Messi again off colour apart from one fine free-kick which forced Granada goalkeeper Orestis Karnezis into a superb save.
Barca's best chance of the night fell to Busquets in a penalty-bix scramble in the second half. Which said it all, really. In the meantime, Granada contrived to miss two one-on-one opportunities and saw a decent appeal for a spot kick waved away as well. All that with only 14 per cent possession.
Martino's changes failed to ignite the Catalans, with Jordi Alba for Adriano a bizarre substitution and Alexis Sanchez in place of Busquets baffling, too. Song, somehow, stayed on and ended the game in a patched-up partnership alongside Mascherano.
"We should have won," Martino said afterwards. And he was right - they should have. "We don't depend on ourselves now and in the dressing room there is the feeling that something important has slipped away." In other words, La Liga.
Tata takes his share of the blame for the performance and the strange selection, while the 51-year-old now faces a tough task as he looks to lift his players for Wednesday's Copa del Rey final against Madrid (who cruised to a 4-0 win over Almeria in Saturday's late game).
But it's not just Martino. What of Barca's sporting director Andoni Zubizarreta? In the post since the summer of 2010, he has failed to address the Catalans' pressing problems in central defence and the fact that Barca ended up with Song and Mascherano at the back on Saturday is a damning indictment of the Basque's time at Camp Nou.
"I'm working normally for next season," Zubizarreta said in his usual post-match chat with Spanish television - a role which makes him seem more spokesman than sporting director these days.
BARCA LOSE GROUND: LA LIGA AFTER SATURDAY'S ACTION
At this stage, however, it remains unclear whether Zubizarreta will be able to bring in players at all as Barca were hit with a transfer ban by Fifa earlier this month.
It has been one thing after another for the
Blaugrana
this term and everywhere you look, from the boardroom to the pitch itself, this club continues to fall into decay - and this damaging defeat leaves Barca's hopes of winning La Liga now hanging in the balance as Madrid moved above the Catalans and Atletico can further extend their advantage on Sunday. Meanwhile, the Champions League is already gone and back-to-back losses this week surely represent the worst way possible to prepare for Wednesday's Copa del Rey final against fierce foes Real Madrid, which now assumes even greater significance for Barca.
Martino is accused of never fully understanding this club and evidence seems to suggest that may well be the case. Tata's decision to stick with what he had in the summer and not bring in anyone after Neymar's arrival already looks ill-fated and misguided, when a central striker to replace the outgoing David Villa, a defender and even a goalkeeper to learn under the wing of Victor Valdes would all have been shrewd signings. Much of that, though, is also down to Zubizarreta's failure to address the imbalance in this squad and Barca are now paying the price for years of mismanagement - just when the titles are being handed out.