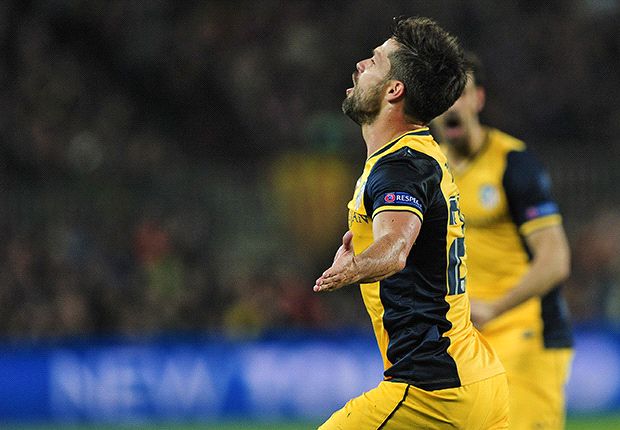 It was a performance based on a wonderful gameplan, boosted by a phenomenal goal and bolstered by the world's most in-form goalkeeper. Tuesday's 1-1 draw at Barcelona will have Atletico Madrid fans believing their Champions League dream could yet becoming an astonishing reality.
Few could have predicted at the beginning of this season that April would begin with a league-leading Atleti heading for the Camp Nou for a quarter-final first-leg clash in Europe's main event, let alone that they would leave Tata Martino's outfit looking somewhat listless for long spells.
Atleti coach Diego Simeone had clearly sent his side out with a strict plan in mind. In two of their three previous encounters with Barca this term, the Rojiblancos had managed to keep a clean sheet. And with the emphasis being placed on making themselves tough to break down, Atleti looked comfortable for long periods. They asked the Catalans to work their hardest to find a way through, and Lionel Messi et al had no answer for much of the game.
MATCH FACTS | Barca 1-1 Atleti


SHOTS
ON TARGET
POSSESSION
CORNERSYELLOW CARDS
RED CARDS
BARCA
17
11
66%8
2
0
ATLETI
6
3
34%
16
0
They had Thibaut Courtois to thank for maintaining the status quo early on, and the Belgian would come to their rescue more than once later in proceedings, but goalkeepers are such huge commodities these days exactly because those as good as the Chelsea loan man can be match-winners.
The loss of Diego Costa to a hamstring injury within the first half an hour was certainly not in Simeone's script, but the quick replacement of the Brazilian-born Spaniard may yet see him play a big part in the remainder of the season. His replacement, Diego Ribas, was to have a big say.
What Simeone's perfect plan did need was an away goal, yet even he couldn't have counted on Diego delivering a wonderful swirling right-foot strike from around 30 yards. The Brazilian managed exactly that in the 56th minute, leaving Jose Manuel Pinto scrambling across with a weak hand at his near post. The loss to injury of Victor Valdes might be the difference between win and bust for Barcelona.
For a while, Barca seemed not to know how to react. Atleti remained as resolute and united as ever, ensuring that the Blaugrana onslaught happened at a harmless distance from Courtois' goal. Simeone had set his side up to be tough to breach, and his warriors were carrying out his orders to the letter.
It was always going to need a moment of inspiration for Barca to break down such a superb unit, and it arrived in the form of a sensational pass by Andres Iniesta which caught full-back Juanfran flat-footed and opened up the space for Neymar to slot the ball past Courtois. The Spaniard had delivered the key moment of the night, and it could yet prove to be the turning point of the entire tie.
From there, Barca dominated. Suddenly they found within themselves an ability to stretch the Atleti back-line which they didn't seem to realise existed for the first 70 minutes. Courtois was forced into two more excellent saves from Iniesta and Messi as the resources in front of him wilted, but he just about managed to keep his net from being rippled any further.
While many might look at the final 20 minutes and deem Barca to have been the better side, the very fact that the onslaught took so long in coming owed much to the tactical nous of Simeone. And when they had to ride their luck a little, Courtois proved to be a keeper of outstanding quality.
A club without the stocks of the world's giants have now gone four games without defeat against Barcelona this season. The Catalans can't find a way past them. They might not have collected a win either, but Atleti look to be getting closer. A fifth draw next week might be enough for them to record a sensational semi-final spot in the Champions League.
And if Simeone and Courtois are as good again next week as they were on Tuesday, there's every chance the impossible could happen.