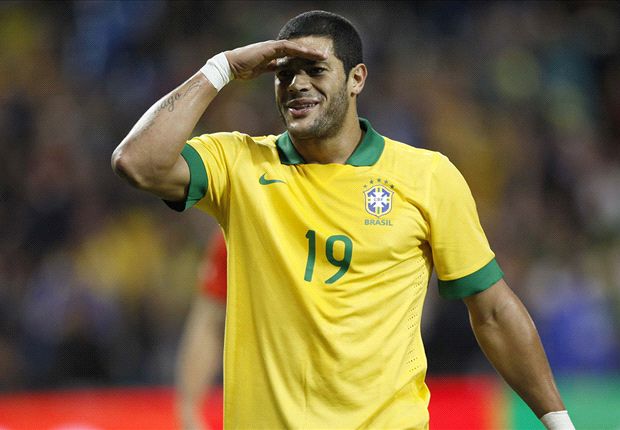 One could forgive Hulk for not feeling as if he was welcomed to Zenit with open arms following his 2012 €40 million switch from Porto.
Within months of his arrival in Russia, he'd received death threats, his sister was the victim of kidnapping, and his new team's captain, Igor Denisov, effectively walked out over the money spent on bringing the Brazilian to the club.
He was understandably struggling to recreate the form that had seen him hailed as one of the world's top forwards after a prolific four years in Portugal and had also found himself in and out of Mano Menezes' Brazil squad, being dropped from the side for the final of the 2012 Olympics was a particular disappointment. And there were even jeers from sections of a frustrated Brazilian crowd.
But fast forward 18 months and Hulk is all smiles once again. He has nine goals in 16 appearances for his club this season and has rediscovered his form for the Selecao.
"Felipao gives me total freedom to play to the best of my abilities," he told Gillette Brasil Global Tour in an exclusive interview.
"I'm getting a lot of compliments, especially from him, and that's given me a lot of self-confidence."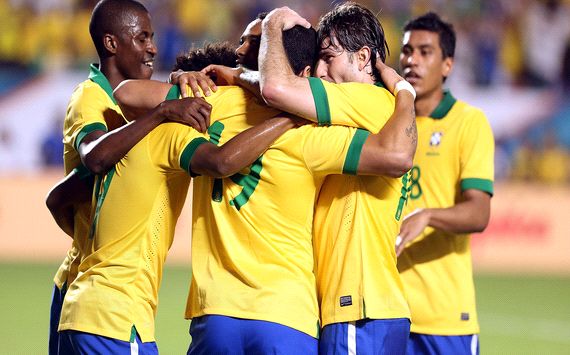 Family Affair

| Hulk embraces his teammates after netting his first international goal in a year
The 27-year-old has been a regular since Luiz Felipe Scolari took charge and was one of the stars of Brazil's Confederations Cup-winning campaign. In November last year he scored his first international goal in 12 months in the 5-0 victory over Honduras, and quickly followed it up with another three days later against Chile in Toronto.
"I think I've sometimes struggled to recreate my club form with Brazil in the past but at the moment I seem to be playing well," he says.
"I'm used to playing out on the right for Zenit. I also played out there a lot for Porto. But as I said, Felipao gives me total freedom when I'm with Brazil so I'm often inter-changing with Neymar or Oscar and that really helps. We really enjoy that."
Scolari has transformed Brazil from a side struggling to find its identity prior to the Confederations Cup to one that has now won 12 of their last 13 matches and Hulk believes his 2002 World Cup-winning coach's man-management has made the difference.
"Scolari is just an incredible guy off the pitch. He is someone who knows only too well how to handle us. So I think that our friendship off the pitch is the real secret to our success.
"We saw how amazing the spirit looked between the players in 2002 when we followed the games on TV and we're enjoying that same spirit here at the moment. So I think that's something Felipao does well – along with [Carlos Alberto] Parreira and the rest of the coaching staff – creating this wonderful atmosphere."
So enjoyable is that atmosphere, Hulk and his teammates wish they had more time to savour it.
"My team-mates aren't work colleagues – they're part of my family," he says.
"We were chatting about this and we were all saying, 'it's such a shame that we're only together for two or three days this time – I wish it could be a week.'
"It's an atmosphere that I've never seen before. It's just so much fun. I think we're laughing or joking around 24 hours a day, so it's impossible not to enjoy yourself."
| | |
| --- | --- |
| | "My Brazil team-mates aren't work colleagues – they're part of my family." |
The Selecao rekindled with the Brazilian public during the Confederations Cup – as did Hulk personally. There were some suggestions prior to the clash with Spain that he could find himself dropped for Brazil's second major final in two years. But Scolari kept faith, and Hulk repaid him by setting up both of Fred's goals before leaving the pitch to a rapturous ovation.
In June, Scolari and Hulk will go in search of Brazil's sixth world title - their first on home soil - and the Zenit star believes the roar of a rejuvenated home crowd can make the difference.
"We have to take that atmosphere on to the pitch with us – this strong team spirit that helps us gel – and together with the amazing support of our fans, who have been like a 12th player for us, I think it will all help us do well at the World Cup."
Hulk has now established himself with Brazil and will be vital to their World Cup campaign. And with the arrival at Zenit this week of his former Porto coach Andre Villas-Boas, a once bleak furture now looks as bright as ever.