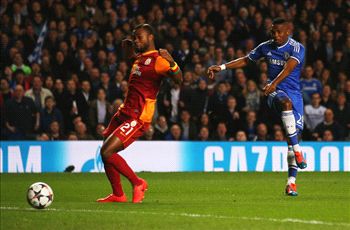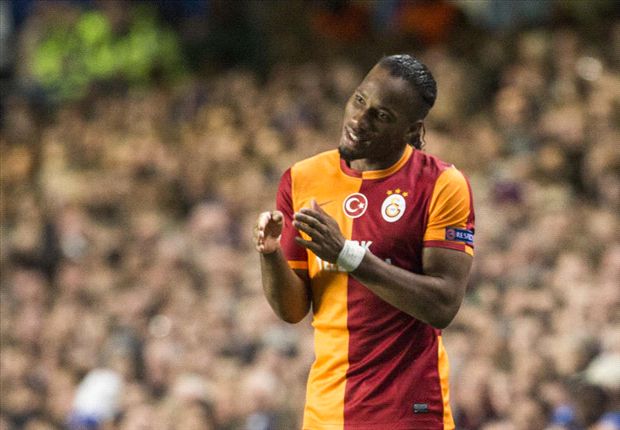 Prior to making his long-awaited return to Stamford Bridge, Didier Drogba admitted he had not decided whether he would celebrate scoring against Chelsea.

At times on Tuesday it was tempting to wonder why he had bothered worrying as he strode helplessly around the field, watching the other great African striker of the past 20 years upstage him on his big night.

In his pre-match press conference, Jose Mourinho refused to rule out the possibility of Drogba coming back to Stamford Bridge as a player when he becomes a free agent again this summer. But then Mourinho also said he did not believe this match would be over by half-time.


ETO'O SHINES AS DROGBA FLOPS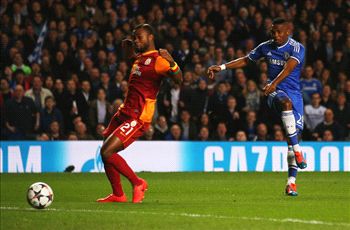 ETO'O PLAYER RATING





This was supposed to be Drogba's big night, but in the end the Ivorian was upstaged by the other great African striker of his age. Eto'o took his early goal ruthlessly and caused problems for a statuesque Galatasaray defence with his smart combination play. Not the striker Mourinho wants but the one he needs on nights like this.
DROGBA PLAYER RATING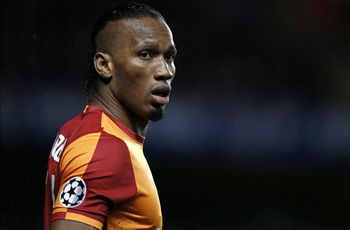 Sadly quiet on his big night, made to look every day of his 36 years by a Jose Mourinho defence which knows his game inside out and team-mates who failed to support him. A wayward scissor-kick and a free-kick which hit a 'DROGBA LEGEND' sign in the stand were the main highlights of a subdued return, though he did miss a good chance in the dying minutes.
Less than four minutes after the referee had blown his whistle it became abundantly clear just why Mourinho had identified Galatasaray as his preferred opponents in the Champions League round of 16. And for all the sentimental talk of the past few days, it had little to do with Drogba.
When Felipe Melo, a man presumably born on a final warning, left Eden Hazard in acres of space from a Chelsea throw-in, the Belgian skipped away from his opponent's desperate recovery charge with typical ease and fed the ball to Oscar, who found Samuel Eto'o in the kind of space he still has a knack of ghosting into these days, despite the blistering pace of old having long since deserted him.
The Cameroonian's finish was as clinical and assured as any in his illustrious career and despite changing little about their task at hand, it sapped the belief from Galatasaray.
More crucially, it allowed Mourinho to drop his men back, stifle Drogba and set up for the kind of match this Chelsea team has been designed for. Gary Cahill's emphatic finish on the stroke of half-time merely put the lacklustre Turkish champions out of their misery.
Much of the football's appeal derives from the romance of individual narratives played out within the wider context, of individual dreams fulfilled in a team game. The finale of Drogba's story at Chelsea provided an ending of purer fairytale than most, allowing him to depart with a level of adoration that has since seen him crowned by many as the club's greatest ever player.
But such a perfect story was always unlikely to have a satisfying sequel, and Tuesday evening brought instead a brutal reminder that individuals can do little when faced with such obvious collective superiority.
Chelsea have not yet found a worthy successor to Drogba but they have undeniably moved on from him. Mourinho's new team is built around pace, pressing and transitions rather than power and territorial domination which gave the Ivorian the prominence to shine, with the jinking, tormenting brilliance of Hazard at its heart.
It is a style more suited to Eto'o, even in his twilight years, and while the Cameroonian is no longer the prolific goalscorer who can bridge the gap between this team and Europe's most devastating sides, his ability to make a mark in important matches cannot be lightly dismissed.
He may only score at Stamford Bridge but Schalke, Liverpool, Manchester United and Tottenham have already witnessed his enduring qualities.
Even when not directly troubling Fernando Muslera, Eto'o's intelligence and experience provided a platform on which Hazard, Oscar and Willian could torment a hapless Galatasaray defence. It was his misfortune that none of Chelsea's creators made the most of his good work on this most comfortable of European nights, and one suspects a significant improvement will be needed against what is almost certain to be formidable quarter-final opposition.
At the other end, deprived of service and inspiration on an occasion which might have affected him too much, Drogba laboured in the unhappy knowledge that his team-mates had not read the pre-match script.
Until a dangerous delivery which narrowly evaded his boot in the dying minutes, the Ivorian's best chance ended with a free-kick which kept rising until it struck a banner among the home support emblazoned with the words 'DROGBA LEGEND'. On a night in which this faded hero struggled in vain to provide one last moment to savour at the scene of countless past glories, it felt sadly appropriate.