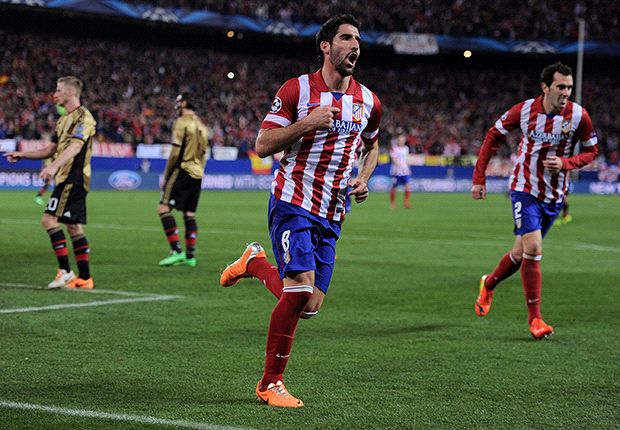 Milan didn't just go crashing out of the Champions League on Tuesday night. They were unceremoniously dumped out with a real reminder of just how far they have fallen.
The 4-1 second-leg defeat to Atletico Madrid at the Vicente Calderon will be the last we see of them in the competition for at least 18 months, and the manner of the humiliation only served to underline exactly how much work they have to do if they are not to experience the same fate as neighbours Inter over recent years.
Clarence Seedorf's pre-match rallying cry was full of the emotive language typical of a football coach in Italy.
"We have to fight as a team and play with our hearts. These things come before the technical and tactical aspects," the Dutchman asserted.
"Milan have a great history and we have to honour the club and the shirt. We know we can write a beautiful page in this club's history."

MATCH FACTS | Atleti 4-1 Milan




SHOTS


ON TARGET
POSSESSION
CORNERSYELLOW CARDS
RED CARDS
ATLETI
13
7
44%
31
0
MILAN
11
5
56%
34
0
But when the game got started it took less than three minutes for Atletico to remind the world who were the form team - Diego Costa launching himself at the ball to turn home Koke's cross after Gabi had all too easily dispossessed Michael Essien. Kaka briefly sparked hope of a fightback when his goalbound header was deflected past Thibaut Courtois by Juanfran, but the Brazilian would later fail to find the well-placed Mario Balotelli with a simple final pass and then – crucially, criminally – headed over from inside the six-yard box.
The
Rossoneri
paid a heavy price, with Arda Turan's heavily deflected shot late in the first half looping over Christian Abbiati, and Raul Garcia rising high to head home a third. By the time Diego Costa grabbed another, there had been other chances for both sides, but the margin of victory was by no means an exaggeration of the gap in quality.
Seedorf's words of fight and honour were arguably upheld for the first half at least, but the difference in class was clear. Milan's play was slow and ponderous, Atleti's sharp and pacy.
The
Rossoneri
had the lesser of two disorganised defences and missed the kind of chances that Atleti gobbled up with glee for the most part. If Balotelli had shown half of the hunger that Costa did, then Atleti might have had more of a scrap on their hands.
This might have been the final nail in Milan's coffin, but the lid has been pressed shut for long enough that most of Europe will not even notice they have gone. In reality, their elimination was only a matter of time. They have just not been good enough either domestically or on the continent.
They are the club who often boast with some justification of their 'Champions League DNA'. They have seven European titles to their name and used to be considered almost unstoppable by everyone else on the continent. But they have now been reduced to a minor hurdle for Serie A minnows and European hopefuls alike.
"This team is the worst of the Galliani era," blasted former
Rossoneri
star Zvonimir Boban earlier this season. "Last season, Milan were playing well even in some of the matches where they didn't get any points. You don't see that now."
He has a point. They have been humiliated in the Champions League before – think Deportivo 2004 – and have even missed out on the competition altogether – remember 2008? But they have never looked quite so desperate in so many aspects.
Milan as we once knew them have reached a very definite end. And while a resurrection cannot be ruled out, we could be waiting a long, long time to witness it.