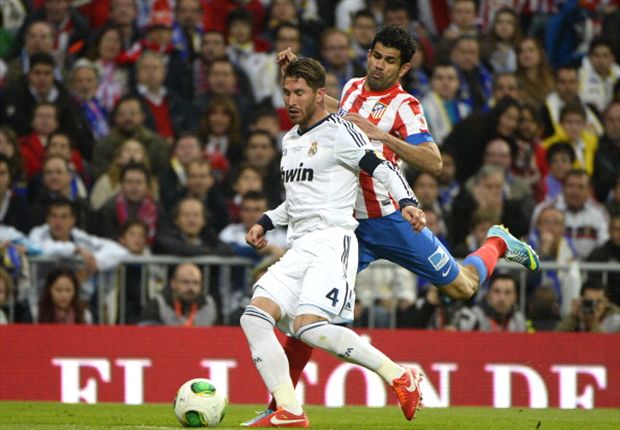 Atletico Madrid striker Diego Costa says he is willing to "hit" Sergio Ramos if he needs to during the upcoming derby clash with Real Madrid.

The duo clashed several times over the course of the two-legged Copa del Rey semi-final tie between the two city rivals.

And the 25-year-old is looking forward to meeting Carlo Ancelotti's side once more and says he will do anything to ensure victory following their shock 3-0 loss to Osasuna.

"I'm no saint in the matches, but against Madrid you saw that I wasn't looking for a fight at any time," he is quoted as saying by Marca.

"I fought and tussled with Ramos. If I have to hit him, I'll hit him. If he has to hit me, he'll hit me, but always in a loyal way, always within the bounds of the game."

"I'm really excited about playing in the derby. As soon as the Osasuna game ended, I was already thinking about the next match. I'd been thinking about it for a while. We're going to go into that game as if it were our last.

"We know the derby is very important, but we can't lose hope over one game.

"If we lose against Real Madrid, it is going to be much tougher [to win the title], but to be honest, we've never really been title contenders. We've been fighting against everyone.

"We're doing well and we know that we're back in the fight again if we win."

Real Madrid and Atletico Madrid meet once more at 15:00CET on Sunday.